In Memory
Nancy Beadleston (Weathers)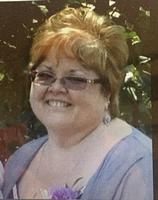 From Salina.com obituary, May 20, 2020--
SALINA — On April 18, 2020 Nancy L. Weathers passed away at the age of 61 in Salina, KS. She was born on August 7, 1958 in Salina to Alvin and Barbara Beadleston of Salina.
She is survived by spouse, Gary Weathers and two children, Mollie Lindsey and Miles Weathers of Salina; three sisters, twin Mary (Mike) Kohr of Norwood Young America, MN, Mardella (Blaine) Chambers, and Betsy Beadleston of Salina; niece, Meaghan (Michael) Urban of Kansas City, KS and nephew, Matthew Kohr of Norwood Young America, MN; niece, Jodie Platz of Kansas City, KS; grandchildren, Winifred Lea Bounsombath, Angelina Maybrier, Wade Pugh of Salina, and Charley Robinson of Kansas City, MO.
Nancy was married on October 1, 1983 to Gary Weathers at the University United Methodist Church in Salina. With the marriage came two children that were center of her world. Nancy graduated from Salina Central High School before attending Fort Hays College and then Cloud Community College earning an Associate Degree in Early Childhood Development. She then furthered her career as a secretary/assistant for USD 305. From the day Winifred Lea was born, Nancy threw herself into being a full time grandmother. She took this role very seriously during her time with Winifred creating a bound that could never be broken. Nancy always has a warm smile and greeting for anyone that she came into contact with and was always willing to help where ever she could becoming a second mom to many other children besides her own. Being a twin Nancy always felt a pull to her sister and shared many strange events over the year that could only be explained as "a twin thing". Nancy enjoyed the arts and loved to spend time with family and friends. Always the first to arrive and the last to leave any social gatherings.
A celebration of life will be held at a later date. In lieu of flowers, please send memorials in care of Ryan Mortuary, Salina. For more information or to leave online condolences visit www.ryanmortuary.com