In Memory
Rad Gremmel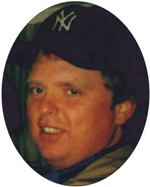 Radley Brent "Rad" Gremmel, 55, of Salina, passed away Thursday, Nov. 28, 2013. Rad was born Aug. 14, 1958, in Phillipsburg to Wayne Leroy and Jolene Sue (Beach) Gremmel. Rad worked as a local bail bondsman for many years.
Rad was preceded in death by his parents and brothers, Ricki Van Gremmel and Larry Vandiver.
Survivors include a daughter, Lindsay (Bruce) Intchauspe; grandchildren, Melina and Brennan Intchauspe; brothers, Reggie Wayne (Veronica) Gremmel, of Tescott, Butch (Karen) Vandiver, of Goodland, Bob (Sandra) Vandiver, of Salina; and numerous nieces and nephews.
A celebration of life and potluck dinner will be held from 11 a.m.-1 p.m. Saturday, Dec. 7, at The Eagles, 146 N. Seventh, Salina.
The family has requested memorials be made to assist with funeral expenses.