In Memory
John Hawley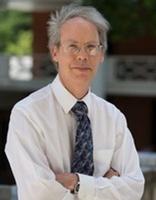 Obituary
John F. Hawley, 63, passed away at his home in Earlysville, Virginia, on Sunday, December 12, 2021.
John was born August 23, 1958, in Annapolis, Maryland, the son of Bernard R. Hawley and Jeanne Hawley. He moved with his family to Salina in 1965, when his father became pastor of Salina First Presbyterian Church.
A 1976 graduate of Salina Central High School, John went on to a distinguished career as an astrophysicist and professor at the University of Virginia. John was a 1980 graduate of Haverford College in Pennsylvania. He then received his Ph.D. in astronomy from the University of Illinois at Urbana-Champaign in 1984 and went on to serve as a post-doctoral fellow at Cal Tech in California.
In 1987 he started his career as an assistant professor of astronomy at the University of Virginia. John's research focused on the physics of accretion disks around black holes. For this work he and his former UVA colleague, Steven Balbus, were awarded the Shaw Prize in Astronomy in 2013. John became chair of the Astronomy Department in 2006 and moved to the Dean's Office in 2012 as associate dean for the sciences. He took up his last administrative position in 2020. He was a Fellow of the American Astronomical Society.
His colleagues remember him as a pioneering figure in the field of numerical astrophysics, an outstanding scientist, and in the words of one admirer, "the funniest man in astrophysics." John was a brilliant scientist, an able administrator, and a loving husband, son, brother, and uncle. He is survived by his wife, Katherine Holcomb; mother, Jeanne; brothers, Steve (Eileen) and Jim (Amy); sister, Diane (Bernie Robe); and his niece, and nephew, Jamie and Aaron. He was preceded in death by his father.
In lieu of flowers, please send memorial contributions to the John Hawley Memorial Fund to the University of Virginia, P.O. Box 400314, Charlottesville, VA 22904-4314.
Posted online on January 22, 2022
Published in Salina Journal