In Memory
Michael Hustus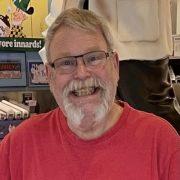 Michael A. Hustus was born in Salina, Kansas on May 7th, 1958 to Alfred and Wilda Hustus (deceased). He passed away 10/14/2021 due to a stroke. He was 63 years old. Mike is survived by wife Emilia of Bremerton, Washington; brother Ronald(Debbie) of Gypsum; a sister Brenda Ward(Steven) of Salina, Kansas.
He proudly served in the Navy from 1978 to 1989 as a Radioman and traveled the world. Michael married Emilia in Subic Bay, Philippines on April 7th, 1982.
Later he worked for Social Security for 21 years.
Mike was larger than life, never knowing a stranger and always making others laugh. His sense of humor was extraordinary and orneriness unmatched. He will be missed. No services are planned at this time.
https://www.tuellmckee.com/obituaries/michael-alan-hustus/42822/