In Memory
Pam Nelson (Harter) VIEW PROFILE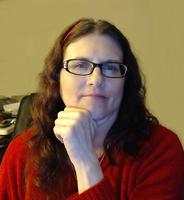 From Keithley Funeral Homes, June 22, 2018
Obituary
Pamela J. (Nelson) Harter, of Hays, Kansas, age 60, died Friday, June 22, 2018, at her home in Hays. She was born April 5, 1958, in Salina Kansas, to Maynard E. and Barbara (Hamilton) Nelson.
She was a Sales Associate for Target and also worked for Dollar General. She grew up in Salina and was a 1976 graduate of Salina High School. She received her Bachelor's Degree from Kansas Wesleyan University at Salina. She moved to Hays in 2008. She enjoyed her cats, doing crafts, watching T V soap operas, her trips to Colorado and Utah, and her family.
Survivors include two sons, Ryan Harter and wife, Allison of Aurora, CO; Nicholas Harter and wife, Kylie of Eagle Mountain, UT; her companion, Robert Windholz, of the home; three brothers, Rick Nelson of Florida; Steve Nelson and wife, Ruth of Kentucky; Mike Nelson and wife, Gypsy, Salina.
She was preceded in death by her parents.
Memorial services will be at 11:00 A.M. Saturday, June 30, 2018, at Cline's-Keithley Mortuary of Hays, 1919 East 22nd Street, Hays, Kansas 67601.
The family will receive friends from 10:00 to 11:00 A.M. Saturday, at the Mortuary.
The family suggest memorial to the Humane Society of the High Plains.
Condolences can be left by guestbook at www.keithleyfuneralchapels.com or can be sent via e-mail to clinesmortuary@eaglecom.net
https://www.keithleyfuneralchapels.com/obituary/PamelaJ-Harter
Click here to see Pam's last Profile entry.