In Memory
James Shafer VIEW PROFILE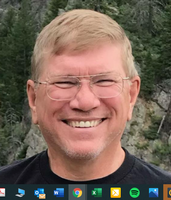 Salina- Dr. James "Jim" Jacques Shafer, 63, Salina, died December 7, 2020 after becoming ill with Covid-19. Jim was born November 3, 1957 in Aurora, Colorado to Martha Therese Shafer, nee Misch, LaRochelle, France, and James Andrew Shafer, Ohio.
Jim's father was a soldier and Jim's earliest years were spent in France and the United States. His first words were in French, which was also the last time he spoke French. As military families do, Jim's family moved often, settling in Salina in the early 70s. Jim's mother said that even as a young boy, he wanted to be a doctor. After his father's death in 1977, his resolve grew and he overcame significant obstacles to become a Family Medicine Physician. Jim graduated from Salina High School Central in 1976, received a Chemistry Degree from Kansas Wesleyan University in 1980, and earned his Doctor of Medicine Degree from the University of Kansas School of Medicine in 1985.
Jim was married to LaDonna Ellison from 1979 to 2005, moved to Kansas City to attend medical school in 1981, and then returned to Salina in 1988 to take over as the sole doctor of a family practice clinic. Jim eventually became a partner at ComCare, retiring in 2016.
Jim was proud to be the doctor on-call for several years for the Salina High School South football team, enjoying the game from the sidelines. He also served as the resident doctor for several Salina nursing homes and rehabilitation centers, was responsible for work comp injuries at various manufacturing plants, and was the Saline County Coroner for a time.
Jim spent his retirement bringing family and friends together, growing his family to include a large extended chosen family. His house was rich with community, and many besides his four biological grandchildren lovingly called him Papa. He was a man who was not content to be idle, so another of his favorite activities was to nurture his garden and the gardens of his loved ones. He was a poker enthusiast; there was never a game too far away to play. Jim loved Christmas, playing Santa for special events and continually expanding his stash of Christmas ornaments and outdoor decorations (it was rumored that National Lampoon's Christmas Vacation holiday excesses were modeled after one of Jim's Christmas landscape creations). However, nothing compared with his joy of time spent with grandchildren, which he did often. He was devoted to them.
Jim was preceded in death by his father and grandparents. He is survived by his mother, Martha Shafer, and stepfather, Dale Barris, Salina, and his three daughters: Lauren Wilde, (Aaron), Mountlake Terrance, Washington; Katherine Adams, (Nick), Omaha, Nebraska; and Natalie Reed, (Kyle), Salina. He is also survived by his siblings: Betty Cory, (Roger), Corpus Christi, Texas; Steve Shafer, Texas; Anthony Shafer, Salina; Sylvia Senecal, Salina; Phillip Shafer, Kansas City; Francine Clymer, Salina; Michael Shafer, (Amy), Salina; Robert Shafer, Missouri; Monique Herbel, (Curtis), Salina; and Claudale Arterburn, (Brian), Wichita. Jim is survived by his four grandchildren: Chloe Bailey, Mira Adams, Finnigan Adams, and Giles Reed. And finally, Jim is survived by friends, old and new, that he considered family: Robert and Ernestine Allen, Salina, Mark and Helen O'Mara, West Lafayette, Indiana, John and Kathy Perez, Salina, and Meagan and Brady Nuessen and their children, Brennan, Milo, Maely, and Barrett. He is also survived by many nieces and nephews.
Jim will be sorely missed.
Because of the pandemic, there will be no public funeral. The service will be livestreamed at 10 a.m. Friday, December 11, at https://youtu.be/5RoyhfIeK8A. Burial will be in Gypsum Hill Cemetery, Salina. Memorial donations toward playground equipment can be made in Jim's name to Webster Conference Center, 2601 N. Ohio St., Salina, KS 67401.
Online condolences: www.ryanmortuary.com
https://salinapost.com/posts/919f83e2-6e99-4435-811f-e1546dfc732b
Click here to see James' last Profile entry.