In Memory
Katherine Wilson (Eklund)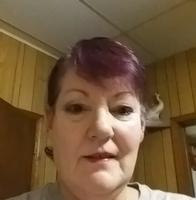 Thank you to Tammy Fanning for providing the obituary information for Kathy (Jan. 2022)
It is with great sadness that I write this.
Katherine Louise Wilson Eklund was born on July 30, 1958. She died on November 3, 2021.
Kathy's mother was Carol Swisher, now deceased, and her father Shelby Wilson lives in Florida. Her older brother Robert Alves lives in Wakefield, KS, and her younger brother David Wilson lives in Lancaster, CA.
Kathy was married to James (Jim) Eklund for 33 years. He is now deceased. They lived in Topeka, KS. Kathy was a stepmother to Jim's three children, two boys, and one girl.
After her husband's death and with her health failing, Kathy moved to Wakefield, KS to help manage her Aunt Carmen's Liquor store. Even with her health failing, she did what she could do. Kathy had COPD and was on oxygen 24 hours daily. She had Hypoxemia heart failure caused by low blood oxygen.
She also had Diabetes and water retention in her legs. Doctors catheterized her twice to remove fluid from her heart and lungs. Kathy died in her apartment and was found by her brother Robert.
Those who knew Kathy knew how kind she was; she loved making jokes and having fun. She also loved music and dancing. I always enjoyed talking to her on the phone and hearing her soft voice. She gave credit to all, much more than most of us deserved. She loved her family and prayed for everyone she knew.