In Memory
Dawn Rick (Robinson)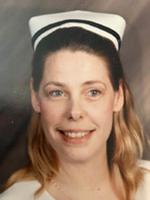 Obituary
Dawn Rene (Rick) Robinson
Waddell, AZ - Dawn Robinson, 64, Waddell, AZ, made the trip to heaven Thursday, October 14, 2021 after a valiant fight with cancer, at her home surrounded by family.
Dawn was born September 28, 1957, in Crete, Neb. She grew up in Salina, KS, attended Salina High School, and graduated from Kansas Wesleyan University, earning her RN. She found working with older people and those in critical condition especially fulfilling. However much Dawn enjoyed being a nurse, her family was her world. She most enjoyed the activities they did together.
She was preceded in death by her brother Joseph, her mother, Marie Rick, in 1991, sister, Sheila Green, in 1996, and her father, Jim Rick in 1999.
Survivors include her husband, Doug, of the home; three daughters, Jennifer Rietbrock and grandchildren Ian, Carly and Macie; daughter Christine Griffith of Waddell, AZ and grandchildren Ricki, Tyler, Gracie and Dalia; and daughter Alivia Robinson; brothers Jim Rick of Niles, KS, Shawn Rick and wife Lita, of Salina, KS, Kevin Rick and wife Trisha, of Salina KS, and Kelly Rick of Salina, KS; sisters Coleen Beck and husband Joe, of Manhattan, KS, and Roxanne Hornberger and husband, Tony, of Dodge City, KS as well as numerous nieces and nephews.
Memorials may be made to St. Jude Children's Hospital or your local Hospice.
Posted online on October 30, 2021
https://www.salina.com/obituaries/phut0087045